0
A letter to myself
Posted by Carleen , 24 August 2010 · 124 views
A letter to myself, across the years.
Dear Little Carly
Carly is always what Mary and Lindsay called you (and still do) and that is how I think of you. You were such a sweet little girl. So trusting and loving. So pretty, though nobody ever told you that. They should have. Just because you weren't a pixie child like Terri it didn't make you ugly, or even just plain. You were so pretty. I look at photos and my heart breaks for you, knowing that you never once felt like you were pretty.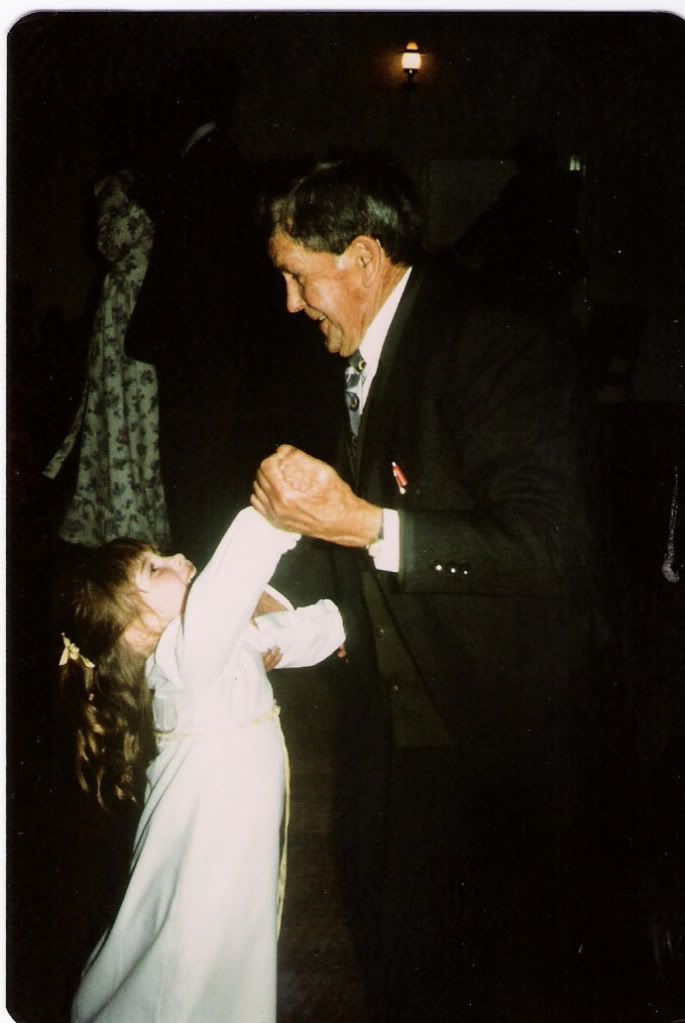 See, look at you. Your fourth birthday, dressed up like a princess. Flower girl for Mary and Lindsay and so proud. And so you should have been. You were such a little thing and yet you got through the whole day with no tears or tantrums. Remember the little boy who kicked Mum in the shins because he wanted you to go home with him? And the band playing Happy Birthday while you stood on the chair at the bridal table? You sat at that table, with all the grown ups, for the whole time you were meant to. I don't know if anyone ever said it but I am so proud of you for that. It was a huge ask for a little girl just turning four.
And here you are at ten. Still a very pretty girl. I wonder why we could never see that. I look back now and seriously, my breath is taken away. I wish we could hold that little girl and protect her. But even then you weren't happy. You lived in Terri's shadow. You weren't as popular or as good at calisthenics, or that is what you were told over and over. But you were popular. Think of days at school. I can't remember one where you weren't at the centre of a circle of friends.
This photo is a little harder to look at. This was after him. After that summer. After that day, in the bungelow. You never did let yourself feel anything about that day. It is something we still don't feel. But looking at that picture there is something missing. A light that has gone from your eyes. A new sense of not always being safe. This is the girl who needed her Mum so much but didn't know how to tell. Or even what to tell. We still minimise the hell out of what he did, refuse to let ourselves go there. But it did happen and despite always feeling like it wasn't much of anything you need, we need, to take that day, that girl, and accept it as psrt of our life. Not in a logicla "It happened" way but in a way that takes the fear and hurt and integrates the whole thing. We will get there. But it is hard work.
OMG! Look at that uniform. Thank goodness they changed to something a little more practical. But still, it was better than the white overalls that made everyone look like the Michelin tyre man. You were so proud of the work you did with St john's. And rightly so. You did really good work, and you were good at it. Some people didn't want to admit that and worked hard on tearing your confidence down. But you always knew, even if you couldn't say it out loud. I know we miss those times. Life wasn't easy, far from it. And happiness was a dream. But it was a way of feeling good, feeling needed. And if you couldn't be loved then being needed was the next best thing. Except it wasn't. You were deserving of love and care and respect. I'm sorry you didn't get it.
Funny, as much as we miss those times they, and that uniform, bring back some bittersweet memories, and a lot of what ifs. It was through St John's you met Diana....and John. The name still hurts and brings flashes of his face and voice. He hurt us so badly but we weren't allowed to feel it. What he did was wrong, and so was the way Diana treated us afterwards. It wasn't your fault. Not at all.
Another bittersweet memory here. Your 21st Birthday party. There with the family. Looking at that photo now brings so many questions. The biggest one is why were you relegated to the back. You should have been front and centre. It was supposed to be your night. Things have changed so much since then. Mum is gone, Dad has remarried and the three of us kids are all grown up with our own families. So much pain and heartache. I wish you had at least had that night to hold onto, but there wasn't much there. It wasn't a good night. You were so relieved when it was over. What a sad thing to remember.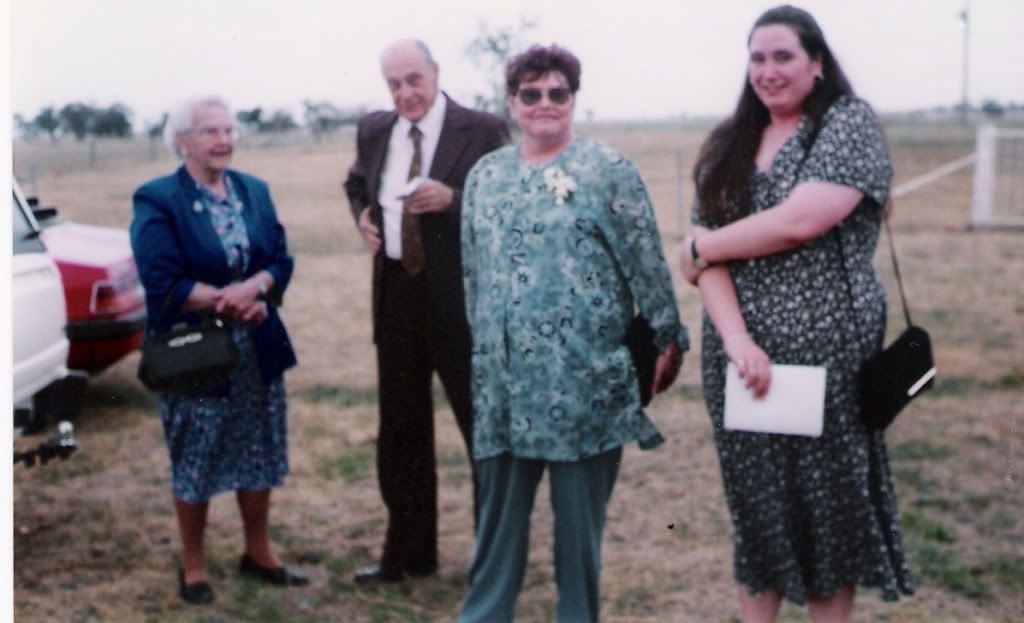 Terri's wedding day. Some pretty little church at the arse-end of nowhere. But what Terri wanted she got. Even that damn dress you were wearing. She picked that. And Mum's outfit. Hard to believe that only three years later Mum was gone. And Nana a couple of years after that. I hated that day. I was an outsider to everything. It is hard to be surrounded by family and feel so alone. Trish was with me. I didn't have a boyfriend at the time so I asked her to come. My darling family decided that that was a statement about my sexuality. It was more a statement of my fear. By then John had...well, you know what he did. There was so little to hang onto and yet you dragged yourself out of bed every day. Despite it all you functioned. Something to be proud of. But I sometimes wonder if you had functioned less if people might have worked out that you really weren't alright. Not that I blame you. You did the only thing you knew how. Nobody could have asked for more.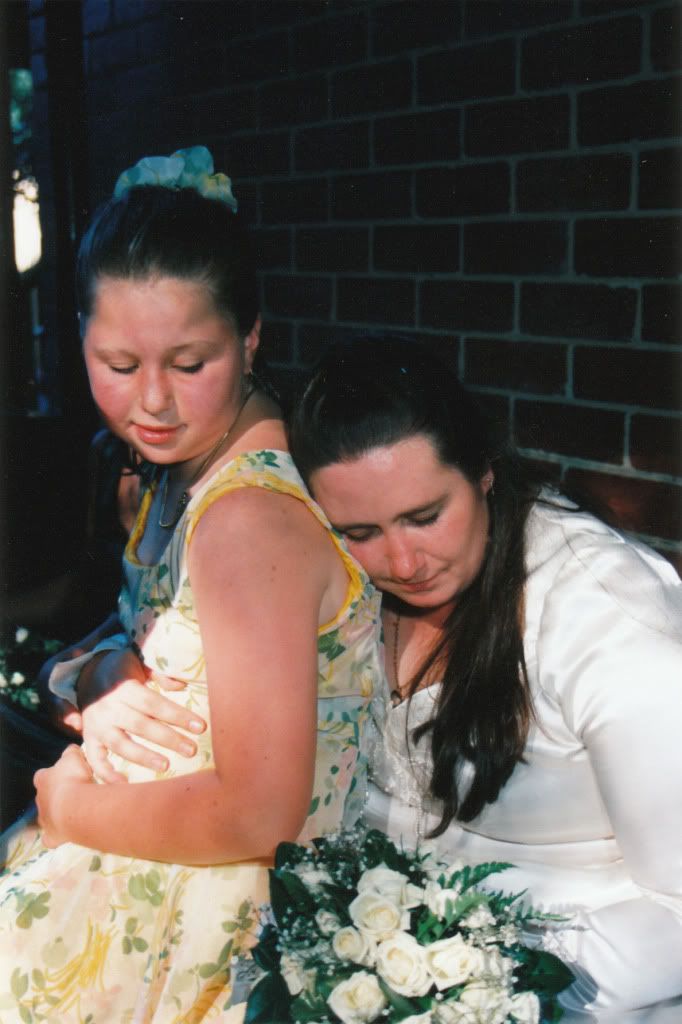 Then it was your turn. It was supposed to be a magic day but this photo tells the true story. You were tired and overwhelmed and wanted the company of those who had never judged or hurt you - the kids. Diana's three and Mick and Kelly. They had been such a big part of your life and were really the only people you could be yourself around. The only demand was love and time. I do love this picture with Tara. One of the few I do like from that day.
And this is now. Well, not quite. The hair is black now which looks really good. The smile is back in your eyes again. Life is still hard but you know what? You are getting there. You work so hard every day but are starting to take time out for you. A first in a long time. Especially as it is time for you rather than time escaping from everything else. You used to go out and sit, zoning out, dissociating probably, in an effort to maintain some sanity. Things are always going to be hard but you know how to ask for help now. And you have friends, good friends, who are there for you. Be proud of that. And remember your kids. They are special people and will always be a big part of your world. I am so proud of them, and of you. You have done a great job with them.
Be proud of who you are. Things might be hard for a long time yet but we can survive.
Love Me